Laredo Offshore Services & The Grand LTD.
Liftboat, Derrick Barge, Spud Barge, Material Barge Rentals
Laredo Construction, Inc. – Houston Office
Offshore Construction, Salvage, Installation, Maintenance
Laredo Construction, Inc. – Galveston Facility
Fabrication, Dock Deliveries & Loadout, Vessel Repairs, Logistics Support
Please complete this form and we will respond within one business day.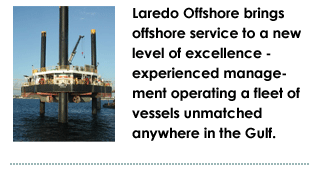 Laredo Offshore Services, Inc.
Laredo Offshore is here to further serve our growing clients operating in the Gulf of Mexico. Guided by a seasoned management team, we boast over 100 years of combined experience in the offshore industry.